After Glenn Close in the cinema, then Victoria Smurfit in the series "Once Upon a Time", it is Emma Stone's turn to lend her features to Cruella. In an origin story on which she returns with Emma Thompson, her opponent in the film.
There had been two films (including one where she teamed up with Gérard Depardieu). Then an appearance in the series Once Upon a Time. Today, Cruella is making her comeback in the flesh as Emma Stone, who succeeds Glenn Close and Victoria Smurfit in this origin story that tells how the shy Estella became the villain of 101 Dalmatians immortalized by the animated feature film released in 1961.
In front of the camera of Craig Gillespie (Me, Tonya) and thanks to a scenario co-written by the screenwriter of The Favorite, Tony McNamara, the actress gives herself to her heart's content in this colorful role. And his face to face with the Baroness embodied by Emma Thompson sparks. On the screen as in a press conference, the two actresses did not fail to do the show.
AlloCiné: Were you surprised to see how much Disney allowed this film to be dark?
Emma Stone : Yes. I really feel like they left Craig [Gillespie] and Tony [McNamara, le co-scénariste, ndlr] write and do whatever they wanted. And the result is very dark for a Disney movie. Not up to being rated R either. [interdit aux moins de 17 ans non accompagnés aux États-Unis, ndlr], but it's darker than I've seen in them for quite a while.
If Cruella existed before, the Baroness is a new character. And she's both fabulous and a living nightmare: how did you bring her to life?
Emma thompson : I was inspired by life in general. And if my husband was present he would tell you "She didn't have to play" (laughs) I had a lot of fun playing her, because it's been several years that I claim to be able to play a bad guy, a real one. I spent years playing what my mother called "good women in dress". There I'm still in a dress, but I'm mean. And what dresses for that matter! It wasn't me who wore them, it was the other way around.
Every time Emma and I got on set, we looked at each other and walked around, like we were works of art. And we were. In a way, everyone participated in the creation of the Baroness, and I just had to introduce myself and say my text (laughs)
I wouldn't be able to play a character if I told myself that he's just bad, that he's just a bad guy.
What were the guidelines when wearing these amazing outfits? Could you sit down? Were you allowed to eat with it?
Emma Thompson: No, my underwear was like the rigging of a ship. With people pulling ropes. Going to the toilet was therefore difficult and required several people. The shoes were a real challenge because in everyday life I wear nothing taller than flip flops. I also wore wigs, so I was taller than I actually am.
I also had to walk in and out of rooms, walking sideways, with three Dalmatians at my feet. So the underwear was something, but not for Stone, obviously. Because she's pretty slim and doesn't need to wear a corset with all those whales.
Emma Stone: This is exactly what I was going to say (laughs) There was such a structure. As with your Marie-Antoinette look in your silver dress at the end. It was an intense level of disguise.
Emma Thompson: Yes but you are small and thin. While if you are plump, there is the solution of the time: you take the flesh and, like me, you squeeze it in the middle. It goes up and down like toothpaste in a tube. But it allows you to make pretty sharp shapes, and it's fun.
Well, it's not incredibly comfortable in the middle of the tube of toothpaste, but our awesome tailors and costumers, led by [la cheffe costumière] Jenny Beavan, had a good time putting on this corset and pulling it tight enough that bits of me were piling up on top of my outfit. Then they would pull again to press down, and pull again. Oh my God, a real butcher shop (laughs)
What's the craziest dress you wear in the movie? The one you were most proud of and in which you felt 100% Cruella.
Emma Stone: By far my favorite is the absolutely insane dress I wear on the garbage truck. With a train of more than twelve meters long which was obviously not attached to the dress, otherwise I could not have gone anywhere. It was added at the last moment, when I was already on the truck to shoot the scene.
It was phenomenal, because very far from what I could wear in everyday life. And I also really like this crazy skirt with which I cover the car [de la Baronne]. That too was epic: trying to step on a car and cover it with a movement of the skirt. It was fantastic. It's really moments like this that I realize I'm in a movie.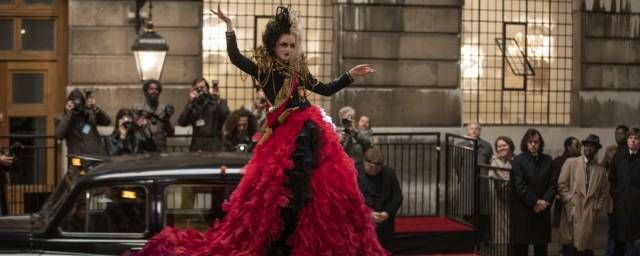 Emma Thompson: And those moments were real! I know this because I was present in these scenes, and there was not the slightest synthetic image. You really got in the car, dragging your dress, and you've done it a million times because it was hard. And with the garbage truck, that moment when the train slips like a snake when it starts and rolls, it really happened.
There are still digital effects on the dogs at times, but they've always been on set. Anything that was doable with them, we did, and it was amazing. They were really sweet and kind, they worked hard. There were little crosses on the ground and we asked them to return to their marks like little canine actors. They would go there, they would wait and they would get a reward.
Emma Stone: Estella's dog, Buddy – who is actually called Bobby – was, I think, the cutest and kindest dog I've known in my life. And I have known a lot.
Between Estella and Cruella, who do you prefer, and who was the biggest challenge?
Emma Stone: It's interesting because there is like a rejection of Estella at one point. She is very nice but not really embodied. So there is something quite seductive about Cruella, because she really is who she is. She is autonomous, in full acceptance of herself. Her world interests me even if she crosses lines that I would not cross. But, honestly, I prefer Cruella.
She was fun to play. When you are like me, with a face made of rubber and you try to contain yourself while playing, the day when you can make tons of it, it's a huge joy (laughs)
The Baroness is a callous and selfish character, always ready to use others for her personal benefit. How did you work on his relationship with Estella?
Emma Thompson: That is true. She believes in being tough and thinks it's the only way to get what she wants. Like Emma, ​​I am interested in the dark side of female characters, because they are too rarely allowed to go into this darkness. We are asked to be nice and kind, don't we? And bad mothers are simply unforgivable. No one can find the words to qualify them.
We don't know where it comes from, but the Baroness is narrow-minded. And she says something wonderful: "If I hadn't been stubborn, I should have put my genie in the back of a drawer." Like many great women who died without being able to produce anything or use their donation. And what did they do instead? As Emma said, I wouldn't necessarily take the same path as her, but her commitment to her own creativity is admirable. And probably difficult.
It's even what helps an actor to come to understand his point of view, and not necessarily see him as the villain of the story. To understand his motivations.
Emma Stone: I wouldn't be able to play a character if I told myself he's just bad, that he's just a bad guy. Do you think an evil person comes forward thinking they are? No, I do not think so. I have a feeling she thinks what she is doing is right. Otherwise it wouldn't make sense. When you play a human anyway. Maybe for a robot it's different.
I am interested in the dark side of female characters, because they are too rarely allowed to go towards this darkness.
You played difficult characters, but the Baroness is particularly mean. Did you find inspiration in anyone in particular that you can tell us about?
Emma Thompson: It was obviously playful, because we're not really mean. But there is nothing more fun than pretending. And it came to me easily. Yet I grew up with a kind and wonderful woman, my mother, and my father, a wonderful man. I have been surrounded by kind, loving people, and rarely have I encountered really mean, harsh, and narcissistic people. But there are a few in show business, without naming names.
It is well known, and some have even come to light recently. But we find it in all professions, at every step we take in life. And I think the Baroness is a mixture of several types of people. She is venal, but her greed is only for herself. She can't stand for anyone to be successful. She feels the need to get rid of the competition when competition could allow her to raise her level.
In the end, she presents herself as endowed with a strong personality. But she is in fact very weak and has the seeds of her own destruction within her, to the extent that she does not accept the talent of others. So when she meets someone who is not only talented, but more than her, and more beautiful, she finds herself in big trouble. And it was obviously very difficult to be with Emma Stone, who is more beautiful, young, talented, etc. But I swallowed my bitterness and made do with it. Notably by drinking glasses of Negroni one after the other during the night (laughs)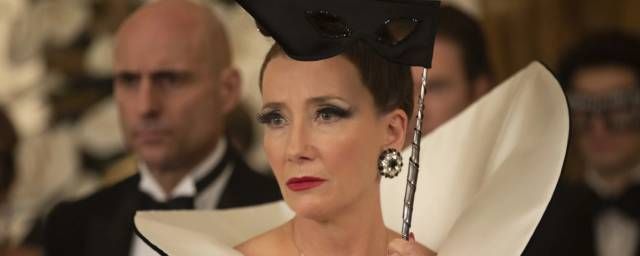 Were you a fan of "101 Dalmatians"? And can you tell us about that call you got, to play Cruella?
Emma Stone: Yes, I loved the cartoon. And especially the fact that dogs look like their respective owners. I've always found it funny, so much so that as a kid I would try to see if dogs really looked like them – and often I was. And then I thought Cruella was a funny character. But I did not receive a simple call to embody it.
It was something like six years ago. Long before we made the movie anyway, and there was just that idea. Disney has all these trademarks, all these characters, and there's brainstorming around. The process went on for four years, with different writers, different ideas put on the table, with a feeling that the film might not be made. Because even though she's a fun and interesting character, the world we wanted to explore wasn't necessarily right for her.
Here we are projecting her in the 70s and it is both the Cruella that we know, and at the same time not quite, because we have created a new story for her, with funny nods to the 101 Dalmatians. But it really was when Craig and Tony joined the project that it started to take off and get exciting. And I said to myself "Oh my God, we're gonna do Cruella! It's amazing!"
Interview by Maximilien Pierrette in Paris on May 15, 2021