Margot Robbie, James Gunn, John Cena or even producer Peter Safran: they all made an appointment with us on the set of "The Suicide Squad" to present us the DC film expected at home on July 28th.
New high-risk mission for the DC Suicide Squad! Five years after its first adventure on the big screen, the commando is back in the cinema. With a new director (James Gunn succeeds David Ayer), many new characters and some old ones, including the now unavoidable Harley Quinn, still played by Margot Robbie.
The actress we found on the set of the film in Atlanta, in July 2019, with her partners John Cena and David Dastmalchian, director James Gunn, production designer Beth Mickle and producer Peter Safran. And his counterpart Charles Roven then came to complete the words of all these beautiful people.
AlloCiné: How did the shooting go?
James gunn : It was a bit complicated at first, because there were a lot of different characters. It took some time to adapt for each actor to fully step into the skin of his superhero. But also so that I understand how each one works and what are the relationships between each protagonist.
And then we also had so many action scenes with ultra complicated choreography, which take a lot of preparation time and require expert precision. Fortunately, I have my little drawings and my storyboard to guide each step of my staging.
John and Margot, who have a high volume of fights, have prepared thoroughly for this film and they demonstrate incomparable efficiency. Especially since it is a film which will have, in the end, more practical effects than digital, which is a first for a film that I am making. Nothing to do with Guardians of the Galaxy, for example.
It's a great satisfaction for me to see a scene unfold in front of my eyes instead of waiting for post-production to know exactly what it's going to look like. I think the experience is more realistic and emotional when you shoot in real settings instead of green backgrounds, and everything takes place in a purely digital environment.
Harley Quinn remains the psychopath I adore (Margot Robbie)
Margot Robbie (Harley Quinn): It's a real pleasure to find Harley Quinn, who is my favorite character. In this installment of Suicide Squad, she is always equal to herself. But, inevitably, with James Gunn in the realization, the character evolves a little in an even more crazy and explosive direction. In this film we also explore the red and black version of Harley Quinn, with this original costume that can be found in the comics.
Either way, Harley remains the psychopath I adore (laughs) She's really the catalyst for chaos! What I would like to point out is that Harley takes more pleasure in being in a group of superheroes than playing her alone. That's why films like The Suicide Squad suit him perfectly. She loves to play with others, like a child in the playground.
I agree with James when he says this movie has more hard-shot scenes and less reliance on special effects. Even though it's exhausting, I love shooting all of my action scenes and doing the stunts that I'm allowed to do. I'm not a big fan of CGI, because it's not always easy to get the right emotional reaction to a certain scene.
But when you fight a real opponent, in front of you, your face will instinctively express the right emotion and the viewer will believe it all the more. I love the adrenaline rush when I run in the middle of a plateau where everything explodes around me for real, as if I was in the middle of a war. It's not acting anymore, it's almost real life.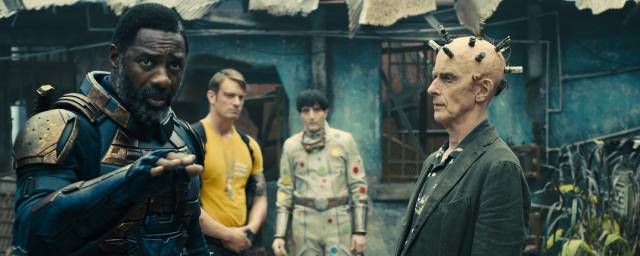 John cena (Peacemaker): What a pleasure to be part of the Suicide Squad, to put on a costume and to feel almost invincible. I like working with James Gunn because he stays true to the narration of the script, while allowing himself the freedom to improvise from time to time in the dialogue. I had complete confidence in him after I met him in his office and he showed me the entire movie storyboard. Everything was precise and clear. It's liberating and refreshing to have such a precise and well-prepared director. In this way, one can raise the level of humor or, when it is not appropriate, lower it. Same with action.
The bonus, in addition to a reinforced concrete story and incomparable humor, is precisely the volume of the action. That's the most you can do in a superhero movie. Totally crazy and explosive. That's what made me want to be part of The Suicide Squad. In any case, my responsibility is to live up to the expectations of the fans. I really try to give 100% of my energy to make it happen, and I believe you won't be disappointed with the result.
David dastmalchian (Polka-Dot Man): Playing Polka-Dot Man is an unforgettable experience. My character has taken full advantage of it in his life, and he therefore has a rather impressive emotional complexity. He has always suffered from his loneliness. Being part of the Suicide Squad is therefore a welcome opportunity for Polka-Dot Man. James Gunn brings an epic vision to the film, which will be an emotional roller coaster for the eyes and the heart.
Steve Agee (King Shark): There is nothing more fun than playing a dumb shark. I know that ultimately my character will be digital, but it's important to bring it to life as much as possible with the motion capture process. Also, James plans to give her a different voice than mine in post-production. [celle de Sylvester Stallone, ndlr]. This allows me to focus more on the gestures of my character. And it made me happy to meet James Gunn with whom I had worked on Guardians of the Galaxy 2.
A good war and adventure movie with maximum fighting (James Gunn)
How was the choice made between the characters from the first film to bring back and the new ones to introduce?
James Gunn: The process was actually quite straightforward. I just had to look at the list of all the heroes in DC and choose the ones I needed. Polka-Dot Man was the dumbest character to choose from for me, and I needed that for this installment of Suicide Squad, which features a character who is actually more depressed than he is. stupid. It creates a bit of humor but also a lot of emotion. And this is the real challenge: knowing how to find the balance between scenes of "bad ass" action and emotional moments, to anchor this film so crazy in reality.
Obviously, Harley Quinn is back, because without her the film would not hold water. There are therefore choices that naturally arise. I loved the first movie and had to live up to it with this new episode. Even though it is a superhero film, it is above all an action and adventure film in the tradition of films of the 60s and 70s like The Dirty Twelve with Lee Marvin and Charles Bronson. It's a good war and adventure film with a maximum of fighting.
Will Harley Quinn be radically different now that she is no longer with the Joker?
Margot Robbie: I think with Birds of Prey, and following his divorce from the Joker, we got to see a different face of Harley Quinn. He is someone who is truly liberated and who will find his inner strength. With this film, his character evolves in this direction. Now she's really been able to turn the page on the Joker and she isn't so haunted by him anymore. She totally embraces who she is and she becomes her own boss. So beware: Harley Quinn is going to break everything!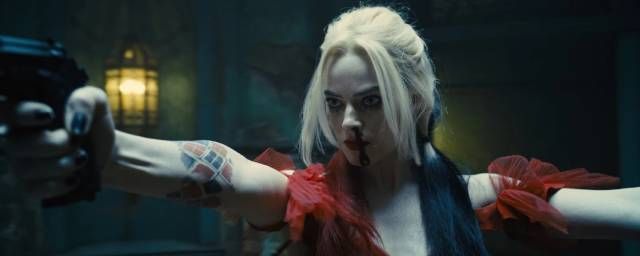 How does this film differ from the previous one?
Peter Safran : It's really the crazy vision of James Gunn, that's what sets him apart from the first film. This is neither a sequel nor a reboot but the interpretation of Suicide Squad by James Gunn. In my opinion, this is the closest version to what John Ostrander had created. We are totally in this crazy spirit of Ostrander comic books. There is nothing from the first film that is really found in this film and the two adventures do not share any connection, although we do have some returning characters like Harley Quinn, Rick Flag, Amanda Waller and Captain Boomerang.
James also wanted to introduce lesser-known characters from the DC Universe. Hence Polka-Dot Man and Ratcatcher. And then we have the legendary Idris Elba who plays Bloodsport. No one is talking about what happened in the first movie. As in all comics, the film opens with Amanda Waller, who assembles a team of super-villains for a new mission. She sends our "heroes" to the island of Corto Maltese to destroy a clandestine laboratory where top-secret experiments are being carried out.
This is why the film is not called Suicide Squad 2 but "The Suicide Squad". The very environment where we mainly filmed, in Panama, sets us apart from the previous film, much more urban. [car entièrement tourné à Toronto, ndlr]. Panama offered us visuals, colors in the style of Cuba, with a certain elegance damaged by time. This creates a stark contrast to our protagonists "low ass" and in vibrant colors.
Another difference is that this movie will be rated R [interdit aux moins de 17 ans non accompagnés aux États-Unis, ndlr], so the violence is undisguised as in Joker. The tone is much more adult than in the first Suicide Squad.
If I can give you one piece of advice, it's not to get too attached to the characters (Charles Roven)
Charles Roven : The uncensored trailer that we unveiled also broke the viewing record for this type of video in the week following its posting. But if I can give you one piece of advice, along the lines of what James is saying, it's not to get too attached to the characters. You never know who will return from a mission in such a suicide squad.
Beth mickle : For me who took care of the "look" of the film through its sets, it was important to find the most suitable place and which had a Cuban spirit. Because that's what James Gunn wanted. So we hesitated with Puerto Rico and Costa Rica but, in the end, Panama opened its arms to us for a fantastic shoot. With its worn side, Panama corresponds more to the vision of James Gunn.
In terms of certain architectures, we were inspired by war and action films from the 60s and 70s, such as Les Douze Salopards. We built a fortress with stone arches like the castles that we would find in these classic films. But there are also more modern, more visceral visual inspirations, like the films Fall of the Black Hawk and Jarhead, even Saving Private Ryan, which served as a benchmark.
From what we have seen, "The Suicide Squad" gives the impression that James Gunn could have done what he wanted.
Charles Roven: Because it is. We were very lucky that he wanted to do The Suicide Squad, because he's a huge fan of comic books. And he really liked this concept of characters who are bad but not evil, and the idea of ​​redemption. So he introduced us to what he wanted to do, to Peter and I as well as to the studio, and we all liked his idea.
And the great thing about James is that when he tells you he's going to do something, he keeps his word. We just liked what he presented and what he wanted us to read from the script. And he wanted to make sure he could finish the script before committing to directing it. So we all received the script, which was exactly what he had offered us, but with more details. And we loved his unique take on everything he does and in particular, his unique take on The Suicide Squad.
Interview by Emmanuel Itier in July 2019 in Atlanta (except those of Charles Roven, interviewed by Maximilien Pierrette in Paris on May 20, 2021)