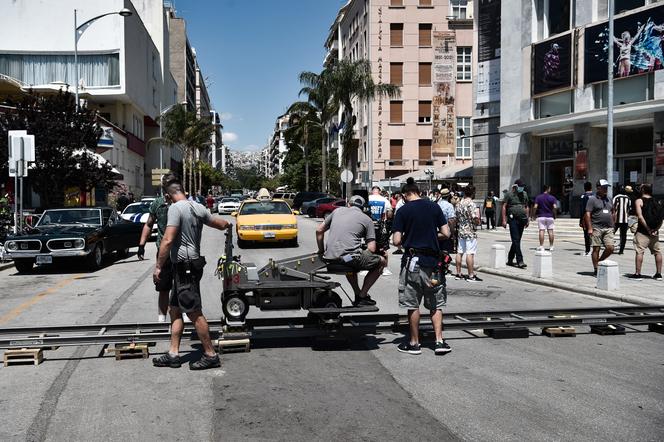 "Greece now has its place on the map of the film industry. More and more foreign producers come to do large-scale filming there ", says Kostas Kefalas, production manager for the Faliro House film company. At the moment, his whole team is organizing the filming of The Greek Freak, produced by Disney +. The film traces the life of Giannis Antetokounmpo, star basketball player of the NBA. Born to Nigerian parents in the popular Sepolia district of Athens, the young man, who did not have Greek nationality until he was 18, managed to land a contract in the United States and rise to the top of the top players. in the world.
Read also
Basketball: Giannis Antetokounmpo, the Greek "freak" of the NBA
This shoot alone will leave 20 million euros in revenue in Greece. During the last two years, 140 productions (films, documentaries, series, reality TV, commercials…) received a subsidy from the Greek State and, in return, investments in the country amounted to 169 million euros. The shootings carried out in 130 different places throughout Greece, employed more than 35,000 people (actors, technicians, assistants…).
In the past, however, Greece has missed out on major Hollywood productions. In 2017, the second opus of Mamma mia is filmed in Croatia rather than on the Greek islands of Skopelos or Skiathos where the first film was set. In 2016, the scene where Jason Bourne, in the eponymous film, crosses Syntagma Square during an explosive anti-austerity protest was not filmed in Athens, but in Tenerife (Spain). Even Oliver Stone's film retracing the story of Alexander the Great was filmed in 2004 in Morocco!
Subsidy system
"The bureaucracy was, a few years ago, a real plague and there was no incentive to attract productions while other Mediterranean countries had taken measures", explains Kostas Kefalas. Everything changes from 2017 when the government adopts a system of subsidies in the form of reimbursements of expenses made in Greece. This aid, financed by the Greek state, is part of the government's strategic development plan aimed at attracting foreign investors.
Article reserved for our subscribers

Read also
A true institution in Athens, the open-air cinemas reopen
" The real turning point took place in July 2020, when aid has increased from 35% to 40% of expenditure. Greece now has a very advantageous framework compared to other European countries such as Croatia (at 25%) or Portugal (between 25 and 30%) which have also adopted a similar system ", notes Leonidas Christopoulos, Secretary General at the Ministry of Digital Governance. At the same time, the National Center for Audiovisual Media and Communication Greek (Ekome) is doing everything to prevent foreign investors from getting lost in the twists and turns of the Greek bureaucracy.
You have 47.67% of this article to read. The rest is for subscribers only.