Eight years after the release of the first opus, the Croods family is back! Always complete, but with a new director and a new producer, who bring this sequel to our microphone.
It was one of the really nice surprises of 2013: The Croods confirmed the good health of Dreamworks. A feature film which, at times, recalled the dosage of Dragons, with more burlesque and a story set in Prehistory.
Faced with the success ($ 587 million in revenue worldwide), a sequel was quickly announced. But it took seven years for it to finally materialize. And an additional year of postponement, due to the Covid-19 crisis which upset the calendars. But this time, there it is: the prehistoric family is back for a new adventure, which pits them against more evolved counterparts, the Bettermans.
Director Joel Crawford and producer Mark Swift, who weren't involved on the first installment, return to our mic on The Croods 2, which is long overdue.
AlloCiné: This sequel has been announced since the release of the first episode, but it took seven years for it to see the light of day [NB : l'entretien a été réalisé alors que le film devait encore sortir en 2020, ndlr]. What took so long and when did the project actually get started?
Mark Swift : The sequels are really hard to do and sometimes people go down a path and find themselves in a dead end. There was a team working on the film and its story, and when Universal bought DreamWorks, they took stock of several films, and The Croods was one of them. And when they decided they really wanted to make this movie, its original directors moved on to other projects.
Joel joined the movie about three years ago, and we put our stamps on it and figured out where we wanted to go. So it's really during these last three years that the project really materialized.
Joel crawford : As Mark said, sequels are hard to do. Especially when you have a first movie that is very loved and very special to a lot of people. You don't want to mess this up, or do something that isn't like the first one. It was really important for us to find the right story and the right evolution for these characters that we love.
And it was fun to approach him as fans, because Mark and I didn't work on the first movie, but we had the opportunity, right from the start of the script, to collaborate with Chris Sanders who came to us. give his notes, share his thoughts with us. They were great at this idea of ​​transmission, and we felt like we could get started now. Trying to honor the characters we love from the first movie, while expanding the universe.
You shouldn't get too carried away, to be sure not to lose the sincerity of the characters
Have there been a lot of changes from what this sequel originally wanted to be?
Joel Crawford: I think so, but I would call it an evolution. We made the characters and things that worked in previous versions our own. But we can not help but develop and seek to make improvements, by dint of working on it.
Mark Swift: In all versions there was this fun idea of ​​a new family that is more advanced [que les héros]. It's always been there, and part of our job has been to develop these characters.
Joel Crawford: To give you an example of the changes that were made: In the script we read, when we started our work on the film, when Eep met the Bettermans daughter, she was immediately jealous of her. We can imagine what would be developed next, but it did not fit with the essence of the characters.
Eep is a girl who travels the world and doesn't meet any other teenager, no other girl. Why would she be jealous? Rather, she must be excited to see another friend. Once we unlocked that it was fun to see these two girls kissing and not being jealous at all. There were a lot of things that we just tweaked staying on the starting point of the storyline.
Mark Swift: I think these changes result in a more positive film. And as soon as we got over those obstacles, we had more fun.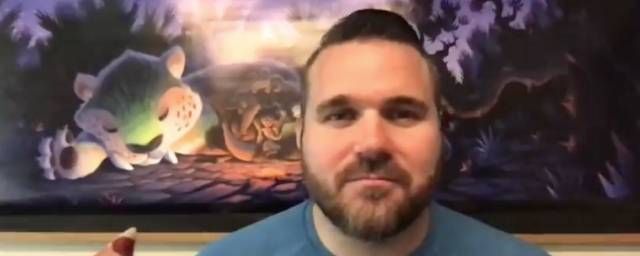 Your willingness not to spoil the first installment goes with the message of this one, which says that we have to stay true to ourselves. How hard was the balance between the spirit to be respected and the new things you wanted to bring?
Joel Crawford: As long as the Croods remained anchored in what had been established by the first film, in terms of the evolution of the story … You didn't have to get too carried away, to be sure not to lose the sincerity of the characters. Our motto was: if it makes us laugh and serves history, then let's give it a try. We could always go back.
But we were aware that we had to go a little further, and that I find my own tone as a director. Without trying to copy what had been done, but pushing the story where I thought it could go. Without risking breaking the honesty of the characters.
Mark Swift: The greatest gift we have received are these characters. Croods are fun and endearing characters, even though they are larger than life. So the challenge was to find their counterparts, the Bettermans, and see how we could have fun with them to have a good story about the encounter between cavemen and a modern family, about this clash of cultures.
Which of these characters is your favorite, the one you feel closest to?
Mark Swift: As a father, I can relate to Grug and his overprotective side at times. And my wife would probably say that I don't always think about it. So maybe Grug for me.
Joel Crawford: I like all the characters. I was wild when I was little. Hyperactive and very curious too. So I felt close to Eep's curiosity and excitement. And there is something very specific to us: the peanut toe. When I was chatting with the writers about how we could show how extreme and curious Eep is through her scars, they brought up this peanut that replaces her missing toe.
And I immediately felt concerned because as a child I had an accident in which I lost the ends of two of my toes. And in high school, to be able to run on the track, a foot doctor had to create a little protection for my toe (laughs) So it hit home with me: "Yes, the peanut toe!" (laughs)
I hope the audience will really enjoy this movie, and that we will feel that there is another adventure for these characters.
The "Croods" saga recalls the "Dragons", in tone, the desire to develop new worlds and even the characters who grow up. Is that your role model when you do a sequel like this?
Mark Swift: Not really. When we are working on a project, we are not trying to remake this or that film. We have these characters and they lead us, in a way, to these stories. I'm obviously flattered by the comparison to Dragons, but it was not our intention to try to reproduce this type of story.
Can we expect to see a "Croods 3" in less than seven years?
Mark Swift: (laughs) It will depend a little on the public. As with all suites, two elements must come together. The first is that people want it. Let them be excited to spend more time with these characters. And then you need a story to tell. The sagas sometimes continue even if they run out of stories, and we have seen this in the past. I hope the audience will really enjoy this movie, and that we will feel that there is another adventure for these characters. I really hope it will, but we need those two things.
Joel Crawford: Like Mark, I love these characters and we love this world. So I also hope that we can continue.
Can we hope for a spin-off on the "Thunder Sisters" that we discover here?
Joel Crawford: (laughs) Yes ! Or maybe a prequel to Gran's youth.
Interview by Maximilien Pierrette in Paris on November 2, 2021