Every day, find the program of films and series to watch on TV. Tonight: a musical film that smells like summer, a police investigation in 1880s Paris and a love story between Kate Winslet and Saoirse Ronan.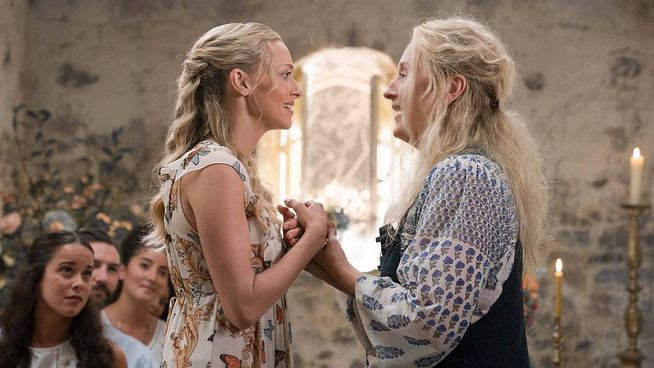 TF1 – 9:05 p.m.
Mamma Mia! Here We Go Again by Ol Parker with Lily James, Amanda Seyfried, Meryl Streep …
On the paradisiacal island of Kalokairi, Sophie, who encounters various concerns in the opening of her hotel, will find comfort with the friends of her mother Donna who will advise her to follow the latter's example.
France 2 – 9:05 p.m.
Mystery at the Sorbonne by Léa Fazer with Mélanie Bernier, Pascal Elbé, Thierry Frémont …
From 10 years old
Paris, 1884. Victoire Missonnier, the first law student at the Sorbonne, is accused of the murder of Maître Charles Sarde. Convinced of his guilt, the police investigate. In desperation, Victoire will ask for the help of one of her professors of criminal law, César Garbot, former swashbuckler of the bar. Engaged in a real race against time, these makeshift allies, accompanied by two students from the class of Victoire, try to retrace the atypical journey of the victim, eminent professor at the Sorbonne who turns out to be… a woman.
CANAL + – 9:00 p.m.
Ammonite by Francis Lee with Kate Winslet, Saoirse Ronan, Fiona Shaw …
From 12 years old
1840. Mary Anning was a renowned paleontologist but today lives modestly with her mother on the rugged south coast of England. Mary gleans ammonites from the beach and sells them to wealthy tourists. One of them, leaving for a business trip, asks him to board his convalescent wife, Charlotte. It is the start of a passionate love story that will defy all social barriers and change their lives forever.
Arte – 8:55 p.m.
Yaron Zilberman's Quartet with Catherine Keener, Christopher Walken, Philip Seymour Hoffman …
When the cellist of a world-famous string quartet learns that he has Parkinson's disease, the group's future hangs by a thread. Between the repressed emotions, the egos and the uncontrollable passions which are unleashed then, the long friendship which unites the four virtuosos threatens to be shattered. On the eve of the concert which will celebrate their 25th and arguably ultimate anniversary, only their close bonds and the power of music can still preserve what they have built.
C8 – 9:05 p.m.
Inspector Lewis with Kevin Whately, Laurence Fox, Clare Holman …
From 10 years old
Season 9 Episode 1: A new boss has arrived at Oxford Police Station, and he begins to question Lewis's role as a consultant. After an exhibition of anthropomorphic taxidermy, a young artist, Talika Desay, author of the exhibition, is found dead of a drug overdose. As it quickly becomes apparent that this is a murder, Lewis, Hathaway and Maddox are faced with many leads …
NRJ12 – 9:05 p.m.
SWAT: Under Siege by Tony Giglio with Sam Jaeger, Adrianne Palicki, Michael Jai White …
From 10 years old
After the SWAT assault on a cartel, Agent Travis Hall captures a mysterious prisoner. Shortly after, the SWAT headquarters was attacked by assailants who sought to free this detainee nicknamed "The Scorpion" …
TF1 Séries Films – 9:00 p.m.
Research section with Xavier Deluc, Xavier Deluc, Franck Semonin, Honorine Magnier …
From 10 years old
Season 13 Episode 6: Who is this 22-year-old homeless man found on the beach, beaten to death? When Bernier and his team discover that the victim was the young hopeful of boxing, the tracks blur… How did this young woman who was smiling at everything end up in the street? Who could have attacked her with such violence?
6ter – 9:05 p.m.
Let's stick with Jean-Paul Salomé with Emma de Caunes, Samuel Le Bihan, Bruno Solo …
A group of French tourists goes on an organized trip to visit "the American West by Cinemascope", as the catalog of the Dream Tour agency says. A dream trip from California to Las Vegas, passing through national parks and grandiose sites immortalized by the western. But now the tour operator goes bankrupt and abandons his tourists in Uncle Sam's country with a young boy as a guide, certainly resourceful, but not really prepared to face this kind of disaster.