Passed by Deauville, Sitges and Gérardmer, "Teddy" is finally illustrated in our dark rooms. A horrific comedy that its directors Ludovic and Zoran Boukherma present to us.
Accompanied by the label "Cannes 2020", Teddy caused a sensation in the few festivals he visited. Whether it's Sitges, where he won the Critics' Prize, or Deauville. It was on the stage that we had met his two directors, ahead of the successful screening of this horrific comedy in which a young outsider believes he is becoming a werewolf.
After Willy 1er, co-directed with Marielle Gautier and Hugo P. Thomas, Ludovic and Zoran Boukherma spent the second on their side, but it is together that they answer our questions about this feature film.
AlloCiné: They say that it is more difficult to make a second feature film than a first in France, and you did not choose the easy way because you made a genre film. Was it as complicated as you imagine?
Zoran Boukherma: It was tough yes, but I don't know if it has to do with the fact that it's a genre film. I think that has to do with the fact that it's both a genre film and a dramatic comedy. It wasn't too clear on paper for people: before, we had done Willy 1er, which is rather naturalistic even if it's a bit pop in the way it's made, so they wondered why we were going towards the genre.
Ludovic Boukherma: And what was important to us was to make genre cinema with the touch that we had in Willy 1er, which is a touch of rural France with a slightly quirky universe. A bit funny, yes. We wanted to put all of this in the film, so on paper, a genre film that takes place in rural France, with comedy, it was more disconcerting for people than if we had announced that we would be making a pure genre film. .
And that's what makes the film so special: you feel it's really French, in a good way, and that you haven't tried to copy what the Americans are doing. And he remains close to "Willy 1er" because, deep down, he also speaks of a marginal.
Zoran Boukherma: And yet we love American genre cinema, but we didn't want to make a pastiche. Or a movie that thinks it's an American movie, which never really works. We wanted to take our references instead: we grew up with the adaptations of Stephen King, with Tales from the Crypt, with the films of Wes Craven… We wondered how to take these references and appropriate them to bring them into a frame French. And assume that we are in France.
Ludovic Boukherma: It was even the starting point. The desire of the film was to create horror in the countryside where we grew up. What if we made these two things meet which, a priori, do not meet?
By making a real horror film, but anchored in rural France with people who have a southern accent – since we grew up in Lot-et-Garonne – and above all normal people. The first desire was even that, beyond the horrific aspect.
On paper, a genre film set in rural France, with comedy, it was more disconcerting for people than if we had announced that we were making a pure genre film.
What led you to the werewolf, which is quite rare in horror alongside vampires and zombies?
Ludovic Boukherma: It all started with something pretty funny. After Willy 1er, we were trying to write our second feature and we struggled a bit. We wrote a lot because we didn't really know what we wanted to do. But we went on vacation to the Jura, and to shoot a short film there we bought a mask and werewolf hands from a joke and trick shop.
And there, by looking for what we could do, we rediscovered the pleasure of when we were kids, of making monster movies. So we made this short film, super modest and shot on the phone, and it all started from there.
We found that if you took a classic werewolf movie in its structure, like The Werewolf of London or Ginger Snaps can be, and watched it today, you saw it differently.
One had the impression that the substance – often a coming of age story – was becoming something else. Potentially anger, marginalization. And that's also what made us want to make a film about mutation, about becoming a monster.
Werewolf hands, are they the ones we see in the movie?
Ludovic Boukherma: It could have been, but it's a costume that was made by Christophe Calcus for the film. What we had before was even cheaper. It was cardboard. (laughs)
Was suggesting more than showing off a bias from the start, or is it related to budget constraints?
Zoran Boukherma: A bit of both. What we are already seeing is that even in werewolf movies that have a lot of budget, the creature is rarely very successful. It often rings false. We like that side: when we watch The Werewolf of London, even if we only see it for a second, we have time to notice that it is not true.
So we said to ourselves that showing it a lot with the budget we had, which was infinitely less than that of these films, was completely unrealistic and it couldn't work. In a purely pragmatic way, we agreed that it was better not to show it too much and let the viewer's imagination do the rest.
But there is also something that we notice: when we watch werewolf movies, aliens or when there is a mystery, the anticipation is always more pleasant than the moment we see.
In an alien film, we are very happy when we are told that the Martians are coming. We are super happy until we have seen them because we imagine them and there is something that keeps us going.
And from the moment you see the thing, you almost lose interest in it. So we decided to postpone the moment when we unveil the werewolf and, at that time, to show it a little, because that allows to keep the spectator in suspense and not to have this little disappointment.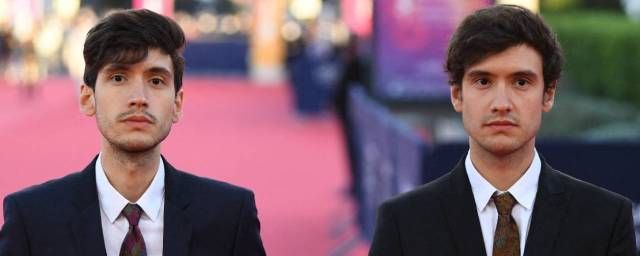 Ludovic Boukherma: There was also the stake of the drama. Considering that at the end we are in something dramatic, if we arrived with a face that was too kitsch, too cheap, it risked slowing down the emotion with too much second degree. And we didn't want to be blamed for it being a bit of a joke. It also saved us from this problem.
Zoran Boukherma: And then the dosage was also done a lot during the assembly. We filmed a lot and made a lot of werewolf shots. And we wanted this one to be done with costume and makeup, not digital special effects.
But despite Christophe Calcus' tremendous job – because we couldn't have had a better werewolf – it was still a costume. And it's very hard to pass off fake for real, even if you can play with the lighting.
I think we didn't realize it was that hard, so we ended up skimming the edit, just keeping a few shots where it really worked.
Interview by Maximilien Pierrette in Deauville on September 5, 2020