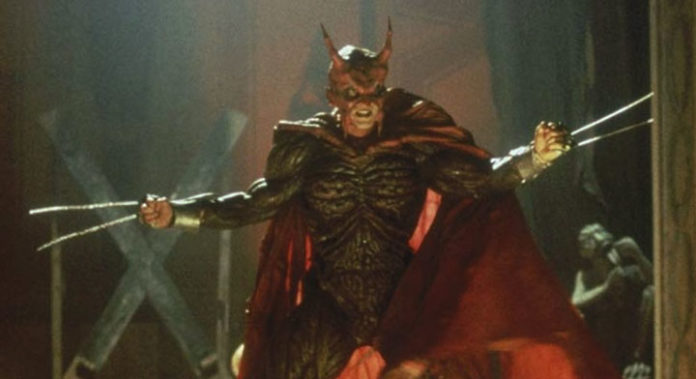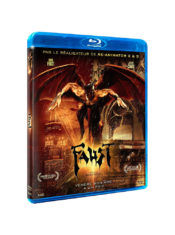 Spain: 2000
Original title: Fausto – El amor de los condenados
Director: Brian Yuzna
Screenplay: David Quinn
Actors: Mark Frost, Isabel Brook, Andrew Divoff
Publisher: First International Production
Duration: 1h37
Genre: Fantastic
DVD / BR Release Date: Jun 3, 2021
In the urban nightmare of the 21st century, John Jaspers' fiancee is brutally murdered. Deeply bruised, Jaspers decides to commit suicide. Then appears the strange Mister M. who in exchange for her soul, offers her the strength and the weapons to avenge her …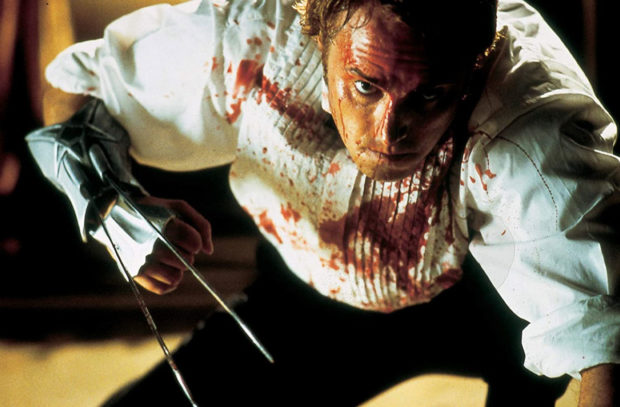 The film
If you are a regular reader of the tests written in the heart of the "Video" section of critique-film.fr, you know the love we have for Brian Yuzna and his work. You also know the enthusiasm we are developing around the Blu-ray release of each of his works. Completely absent from the High-Definition shelves a few years ago, Brian Yuzna's filmography today nevertheless benefits from the appeal of consumers for so-called "catalog" horror films – these films which are of little interest to aficionados of Netflix and SVOD in general, and which in fact are now in the crosshairs of video editors.
Thus, in the space of two / three years, almost all of Brian Yuzna's films have finally seen the light of day in Blu-ray format. Released in June under the colors of First International Production, Faust therefore follows Rottweiler (released on May 20), and precedes the delusional by a few months Beyond Re-Animator, which is announced for August 18.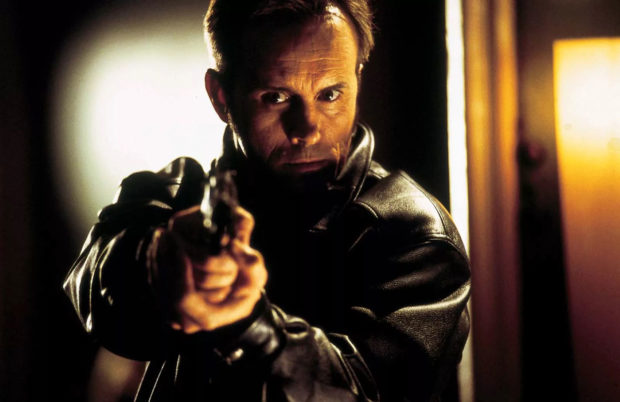 We will not offend you here to present to you again the career of Brian Yuzna, nor the capital place he occupies in the history of horror cinema at the end of the Twentieth Century. However, we can only recall that Faust is the very first film produced by the Fantastic Factory, a Spanish production company specializing in fantastic cinema, created in 2000 under the aegis of Filmax and directed by Julio Fernandez and Brian Yuzna himself. The Fantastic Factory would only produce nine films before disappearing in 2007.
It is also good to clarify that Faust is the adaptation of a series of independent black and white comics by David Quinn (screenplay) and Tim Vigil (design), created in 1987 and published irregularly until its fifteenth issue in 2012, which marked the conclusion of the story. Known for offering episodes of rather extreme graphic violence and many explicitly sexual situations, the comic series had been totally banned in Canada and England. In France, a first volume of the series was published in 1993 by Breaker comics (also editor of the French version of The Crow), but the rest of the story was unfortunately unpublished.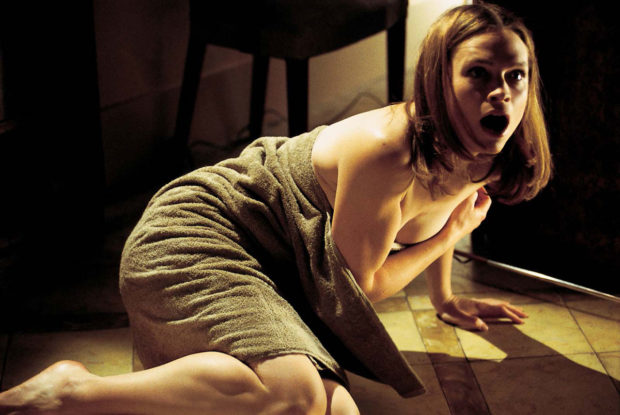 To discover Faust Quinn and Vigil version, you will therefore have to turn to the import, but if you let yourself be tempted, keep in mind that this is a series to be reserved, as the saying goes, "to a very informed public ": Faust is indeed an extremely brutal story stuffed with hard sex, but which remains extremely very well written and illustrated throughout its duration. The scenario of Faust Brian Yuzna's version is signed by David Quinn himself, but as you might expect, large concessions were made in order to be able to bring the narrative to the big screen. Faust is therefore to be compared to films such as Wanted – Choose your destiny (Timur Bekmambetov, 2008) or even Fighting Rooster (Pou-Soi Cheang, 2007) in the ranks of these films full of qualities above which unfortunately floats the shadow of a graphic narrative so barred and extreme that any adaptation will necessarily seem very softened.
For anyone who's read the comics he's adapting, Faust is therefore very symptomatic of this state of affairs: it may well be completely blocked, Brian Yuzna's film never really manages to match the furious madness of the original comic book, outrageously violent and erotic, in which the good Faust beheaded the villains in packs of twelve using the long steel claws attached to his wrists. Twenty years after its release, Faust has also taken dear on the side of digital special effects which, if they were not necessarily already illusory in 2000, will now mainly arouse a few nervous and a little embarrassed laughs.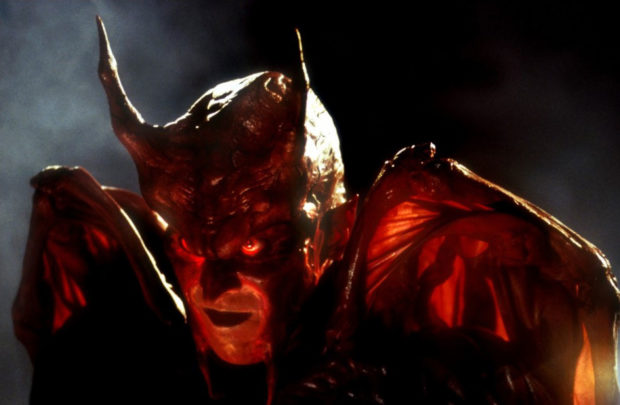 However, and as usual, Brian Yuzna signs with Faust a film well in the west, chaining the adventures of the heroes on a rhythm of hell in order, it seems, to concentrate on the most visual aspects of his work: staging, aesthetics and special effects. The gory, deviant and very disgusting scenes therefore follow one another with an imperturbable seriousness, at the heart of a very neat baroque aesthetic – special mention will be given to make-up and other old school special effects signed Screaming Mad George, and which for once n 'have not aged at all.
However, and despite the film's obvious flaws, Yuzna's genius and generosity shine through in almost every shot, as does her keen sense of the grotesque and obscene spectacle. Thus, we cannot help but appreciate the wink made by the filmmaker to his audience, especially during this scene evoking Society during which the ass and breasts of a woman start to swell / melt … We will also note some great ideas for staging, as well as a generally very energetic camera, allowing us to go beyond the limits of the casting.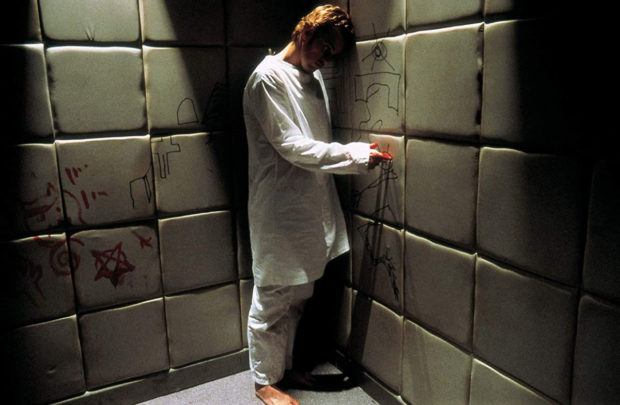 In the main role, Mark Frost unfortunately appears very light, in the same way as Isabel Brook, who struggles to convince in the role of the psychiatrist victim of ill-treatment. By their side, the star of the saga Re-Animator Jeffrey Combs seems to wear a suit a little too big for him in the role of Lieutenant Dan "Bulldog" Margolies. In fact, the real "heroes" of Faust will be the two villains, played by Mónica Van Campen and especially Andrew Divoff. For those who have forgotten it, we discovered Andrew Divoff in 1990 in The cemetery creature, but his career in horror cinema would really explode a few years later thanks to his role of Djinn, evil genius of the film Wishmaster (Robert Kurtzman, 1997), which he would also cover in the very amusing Wishmaster 2 (Jack Sholder, 1999).
In short, forget about any reservations and enjoy the spectacle of Faust : a Brian Yuzna film is always a memorable experience, especially when, like here, it evokes the best of those crazy 80s B-series, at the heart of which scenes of sex and violence were linked against a backdrop of thunderous hard-rock (Machine Head, Sepultura, Soulfly, Coal Chamber, Fear Factory…) and in a communicative good mood.
Breaking News: our colleagues from Deadline just revealed than Sony Pictures Television had acquired the rights to the comic book series Faust, which should be adapted as an animated series. Matteo pizzolo (very present on Twitter) is expected to write the screenplay, under the supervision of David Quinn and Tim Vigil. We couldn't be more in sync with the news!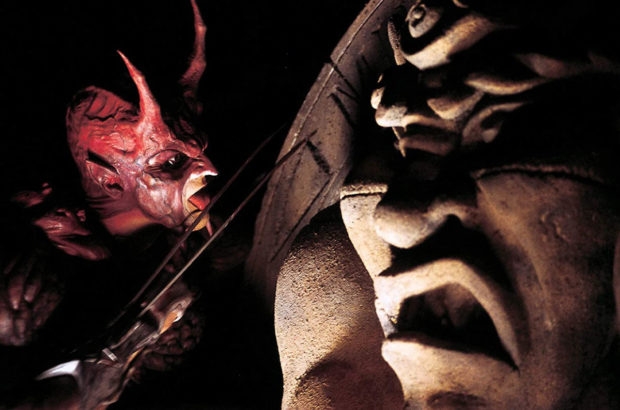 Blu-ray
Blu-ray from Faust edited by First International Production offers us a generally recommendable Home Cinema experience. If the film is unfortunately encoded in 1080i, making the film pass 1h41 in theaters where it had the chance to release at a duration of 1h37 (timing at 25 frames / second requires), the image is stable and clean . We feel, despite a bit of a soft bite, an undeniable HD upgrade for a film which remained anyway previously unseen on Blu-ray in France, and only available in a DVD edition released in 2001 – and therefore almost prehistoric. The master has obviously been cleaned (as the sticker stuck on the case proudly announces), and the High-Definition rendering is quite digital: the image has undoubtedly been passed to the noise reduction (DNR) in order to obtain a smoother image – this detail will appear especially when rear-projected onto a large screen. The encoding job offered by FIP in fact pays a nice tribute to the very careful night photography of the film, signed Jacques Haitkin (Shocker, Ambulance, Maniac cop 3). On the sound side, the film is offered to us in DTS-HD Master Audio 5.1, and only in French version. The mix is ​​energetic, carried by a very muscular soundtrack, which will impress the spectator, with literally thundering passages bringing a certain dynamism to the whole.
In the supplements section, you will find a nice series ofinterviews with the film crew (9 minutes), in unsubtitled original version, but very easily understandable. Brian Yuzna to discuss film design and label Fantastic Factory, makeup artist Screaming Mad George will discuss the various practical effects produced on the set, and actors Mark Frost, Isabel Brook and Jeffrey Combs will share their experience of a filming relocated to Spain. We will then continue with a featurette offering us to discover some images stolen on the set (5 minutes), and so to admire the maestro Brian Yuzna at work. A handful of trailers of films already released or to come at First International Production (Rottweiler, Hell of wolves, Faust, The night and Fukushima 50) will close the round of supplements.