Oliver Stone interviewed former President of Kazakhstan Nursultan Nazarbayev for a new eight-hour film series that has come under attack as a hagiography that contributes to the cult of the leader's personality.
In the film Qazaq: History of the Golden Man, Stone uses the same non-confrontational approach to interviewing autocrats that has made him a favorite of Vladimir Putin, former Ukrainian President Viktor Yanukovych and others seeking to polish their reputation by sitting with Oscar-winning director of Platoon and JFK.
"Call #Nazarbayev whatever you want – dictator, strongman, tyrant, founder, "Stone tweeted of his film. "You will see that he is a modest man explaining the #Soviet the demise of the empire and the transition of its important country to an independent nation, including the elimination of its nuclear weapons. "
Modest is not a word often used to describe Nazarbayev, 81, who ruled Kazakhstan for three decades. He won the election in 2015 with 97.5% of the vote and adopted the name elbasy, or father of the nation, and the capital, airport, main university and main streets were named after him. Two new statues of him were unveiled just last week.
The film "is obviously part of her lifelong cult of personality," said Joanna Lillis, veteran journalist on the country and author of Dark Shadows: Into the Secret World of Kazakhstan. She noted similar efforts, such as a six-part biopic of Nazarbayev produced in Kazakhstan. "This can only be described as propaganda… but this one is obviously aimed at a foreign audience to boost its reputation and heritage."
In a telephone interview from Nur-Sultan, the capital of Kazakhstan renamed after Nazarbayev, Stone dismissed questions of whether his film would be used as propaganda and whether he should have placed more emphasis on Nazarbayev for his cult of personality.
"I'm not going to come and lecture these people on how to run their country and run a democracy," Stone said, adding that he saw Nazarbayev as some kind of "tribal leader" running a difficult country. "It does not work. Democracy barely works in the United States. "
The film follows a series of documentary projects starring Stone on Russia and Ukraine that reflect a strongly pro-Kremlin worldview, including glowing interviews with Putin and former Ukrainian officials such as Yanukovych and Viktor Medvedchuk, a confidant of the Russian president. Stone noted that the films, which strongly criticize the 2014 Euromaidan revolution and were attacked as propaganda vehicles, are very popular in Russia.
"What's wrong with celebrating Nazarbayev for 30 years in power," he said when asked if he feared the film could be used as propaganda. "Give him credit for building the country and keeping the peace and not turning it into a garbage heap like Ukraine."
With the new film, Stone confirmed his credentials as the go-to Western interviewer for current and former strongmen hoping to avoid thorny questions about democracy, and who prefer to discuss their historical and geopolitical missions in broad strokes.
Stone "looks a lot like the people who run ideology in Kazakhstan," said Vyacheslav Abramov, the founder of the independent organization Vlast.kz news site. "Nazarbayev was of course successful, but Stone quite ably ignores what you might call the mistakes or problems that have arisen during his 30 years in power.
"Of course, Stone didn't want to make an honest film about Kazakhstan. It was not his goal, his desire. He is a common propagandist, and I think, shameful. At least that's what he has become. "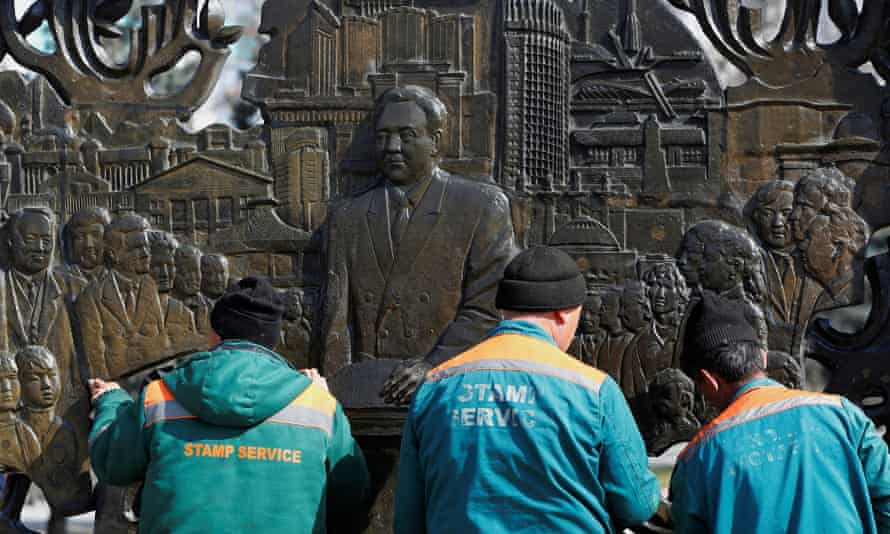 Stone and his producer, Igor Lopatonok, declined to discuss funding for the film, but denied any involvement by the Kazakh government. Stone also did not name his honoraria, but said it matched his job as an interviewer and producer of the documentary. He would have earned more by directing feature films, he said.
Stone, who had never been to Kazakhstan before the film, said he received much of his information about the country from Lopatonok, a businessman turned film producer who also served as his guide for Ukrainian politics.
When asked if they include dissenting voices about Kazakhstan in the film, Lopatonok replied that they did not.
"I heard you ask if we were talking to the opposition," he said. "No, my point of view as a director, I want to follow my script, and my script was to tell the story of the country by interviewing the leader."
The pair sat in Nour-Sultan this week alongside Nazarbayev's press secretary for a briefing on the film widely covered by state media.
Abramov said his outlet intentionally did not write about the film, which he recognized as propaganda. In the decade since Vlast.kz was founded, he did not get an interview from Nazarbayev or the current president, Kassym-Jomart Tokayev.
"Nazarbayev's access to journalists is extremely controlled, extremely controlled," said Lillis. "The idea that a journalist or an independent or critical filmmaker can have any access… is absolutely out of the question."