The feel good movie all star of Wes Anderson arrives in Cannes, Mia Hansen-Løve in Bergmanian territory, the strange lamb of "Lamb", ecology in cinema mode with "Animal" … We talk about it in our debrief of this seventh day in Cannes.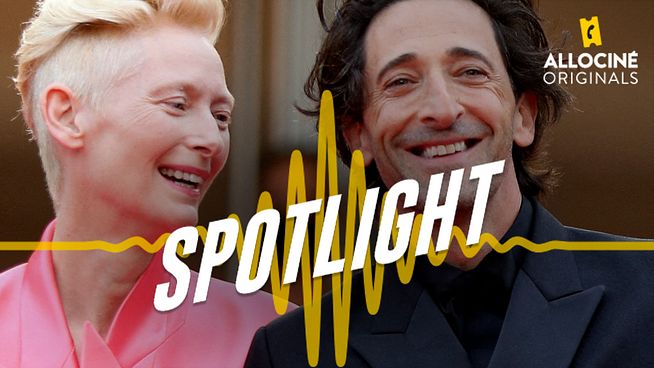 Feel free to share, rate, comment on the show and follow the "Spotlight" feed on podcast platforms. It is available on Deezer, Spotify, Apple Podcasts:
Spotify

Apple Podcasts

Deezer

Soundcloud
Laetitia Ratane (@ laetitia.ratane)
Being invited to Cannes evenings often associated with the film presented during the day … This is what occupies the minds of festival-goers almost full-time every year. Journalists also try their luck by speaking to the relevant press officers, their acquaintances or their public relations experts. This year, the hunt is even more complicated and lean, covid and gauges oblige. If by chance your name is accepted on the coveted list, there is still the battle to be fought to finally enter. When you get there, victory is sweet and deserved. Roof top of a 5-star hotel or Cannes villa with swimming pool, the places you enter are always unexpected, like secret gardens with privileged access. But who are all these people? Ah, the mystery remains.
Brigitte Baronnet (@BBaronnet)
At a time when marketing and promotion occupy a preponderant place to give a notoriety to films, to go to projection without knowing absolutely nothing of what one is going to see finds a particular flavor. The Directors' Fortnight, a parallel selection of the festival, more focused on independent cinema and very authoritative, is the ideal place to indulge in this kind of pleasure and discovery. This is how I went to discover Neptune Frost, a totally unexpected and unique Rwandan film. The film which has at times false airs of Mad Max with its futuristic atmosphere and its astonishing looks is a poetic and sometimes elusive experience. He daringly mixes SF and film music. A UFO !
Megane Choquet (@MeganeChoquet)
We had waited for months, we finally saw it! The French Dispatch was screened in Cannes and a good part of the cast was present for the red carpet, including Tilda Swinton and Timothée Chalamet in chic and rock styles. Such a beautiful bunch of stars on a red carpet, that's Cannes!
Thomas Desroches (@ThomDsrs)
The day was busy and therefore rich in meetings. The first of them took place on the Plage de la Quinzaine where the interview for the policy Return to Reims was organized (Fragments). I was able, on this occasion, to meet the director Jean-Gabriel Périot with the narrator of the film, the actress Adèle Haenel. I was impressed with these two people because, beyond my appreciation for this feature film, they were exciting in their responses. Later in the afternoon, it was for a completely different film, Lamb, that I met the talents: the filmmaker Valdimar Jóhannsson and Swedish star Noomi Rapace – who is no longer needed. They were pleasant, available, accessible and even agreed to participate in the photo game.
Maximilien Pierrette (@ maxp26)
"If I had to sum up my life today, with you, I would say that it is first of all meetings" : It's Edouard Baer in Mission Cleopatre, certainly, but it's also very true to tell the Cannes Film Festival. Friends, colleagues, stars who wander more or less incognito on the Croisette and, of course, the talents that we interview. And that we discover during the fortnight. Who would have thought that the Norwegian Eskil Vogt would become one of my favorites of this 74th edition?
After having co-written Julie (in 12 chapters), like all of Joachim Trier's films, he signed, solo, the shock The Innocents. All the more reason to want to talk to this man who, not content with being talented, is also very charming. In addition to speaking impeccable French. While he had specified that he would switch back to English in the event of a problem, the director held the entire duration of the interview, during which he spoke to us very well about his relationship to the notion of gaze or the manner of directing kids in a horror movie. It remains to wait for the release of the film so that you can read the interview.
Yoann Sardet (@SardetY)
A few hundred meters from the red carpet, with their feet in the sand, festival-goers were able to pass the ninth with the public and open-air preview of Fast & Furious 9 at the Cinéma de la Plage. The session, cheerful and very nice (the "No, but this is abused!" fired in every action scene), was surprisingly family friendly, with many toddlers coming to accompany their parents and watch Vin Diesel do some unlikely motorized stunts. Children who quickly spotted our "gift bag", in this case the small cars that we were giving to spectators able to answer our "Quiz & Curious". The quiz for fans quickly turned into a school for fans, with a host of kids delighted to try their luck, certainly (very) helped by mom or dad. In the end, we made five happy … and quickly regretted not having bought more cars for these mini Vin Diesel! Who could have imagined that a Fast & Furious shoot turns into a cute moment?