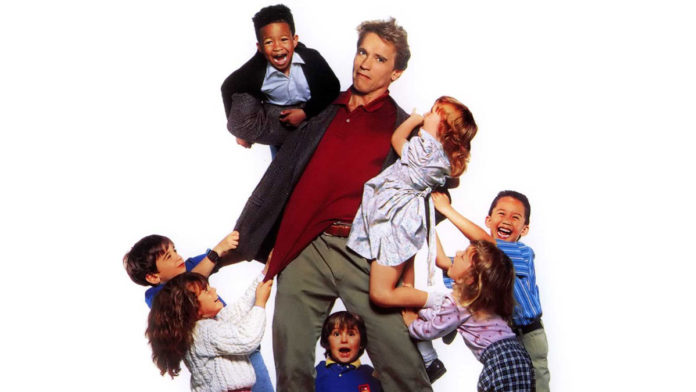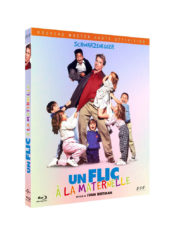 United States: 1990
Original Title: Kindergarten cop
Director: Ivan Reitman
Screenplay: Murray Salem, Herschel Weingrod, Timothy Harris
Actors: Arnold Schwarzenegger, Penelope Ann Miller…
Publisher: ESC Éditions
Duration: 1h51
Genre: Comedy, Action
Cinema release date: February 13, 1991
DVD / BR Release Date: May 5, 2021
John Kimble is a police officer and mercilessly hunts down drug lords. This time, the challenge is great: he must find the trace of a trafficker through his son … and for that, he must infiltrate a completely unknown environment in which it is better to hide his apprehensions: a kindergarten class …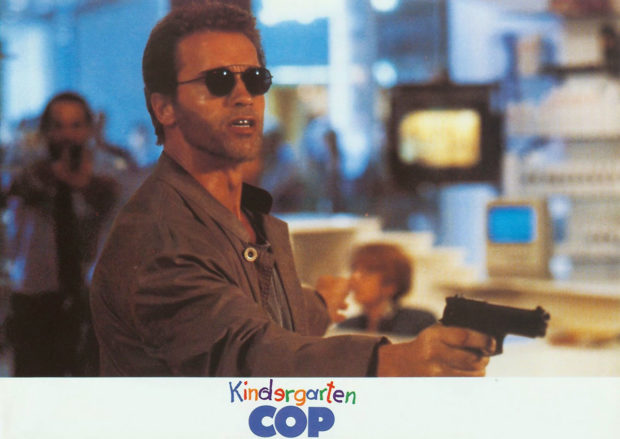 The film
[3/5]
At the end of the 80s, the undisputed stars of the action film – we think of Arnold Schwarzenegger, Sylvester Stallone or even Chuck Norris – saw the arrival of young athletes with long teeth determined to trample their flower beds and eat their piece of the pie. Thus, personalities such as Jean-Claude Van Damme, Dolph Lundgren or Steven Seagal have started to give a little "old growth" to established stars, who have in fact sought to diversify, in particular by turning comedies.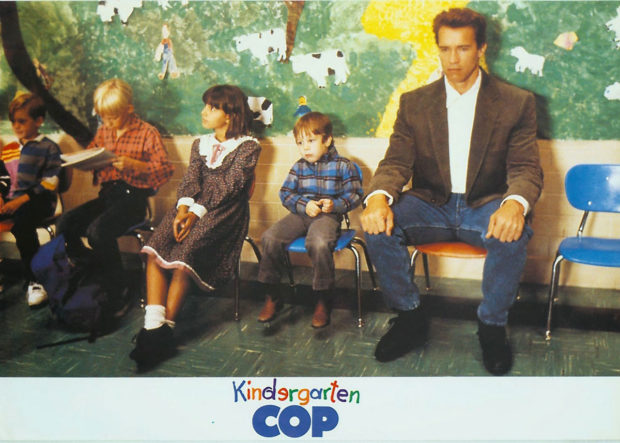 And what could be easier than to make people laugh while playing on the contrast between these "Hercules" of modern times and their contemporaries? Ivan Reitman would therefore first confront the mountain of Schwarzenegger muscles with little Danny DeVito in Twins (1988), before having the idea of ​​placing the Austrian Titan in front of a class of six-year-old children in Kindergarten cop. And it is clear that in its niche (that of family comedy), Ivan Reitman's film works quite well.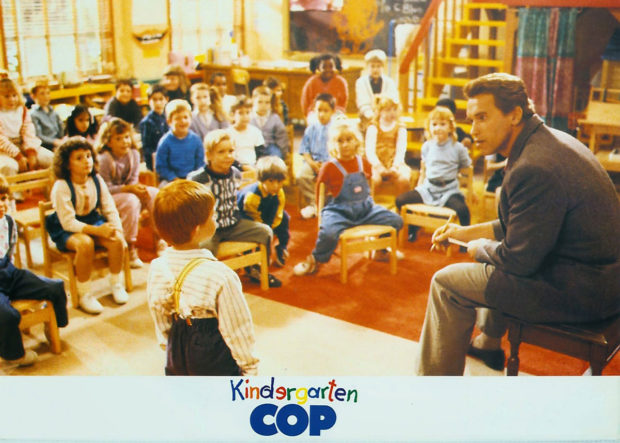 We won't teach you that: sometimes all it takes is nothing to have a good time. Thus, a film does not necessarily need to develop a very deep story kneaded with rich themes or extremely psychologically researched characters to establish itself as good entertainment. Kindergarten cop is therefore one of those films based almost exclusively on their "concept" – here, a bodybuilder catapulted as a teacher – but which has managed to keep a clear impact on the viewer. The most astonishing thing is, moreover, that the film has stood the test of time rather well; we want proof thatKindergarten Cop 2, which starred Dolph Lundgren, was ultimately much more of the remake than of the sequel – some gags were even included there as is.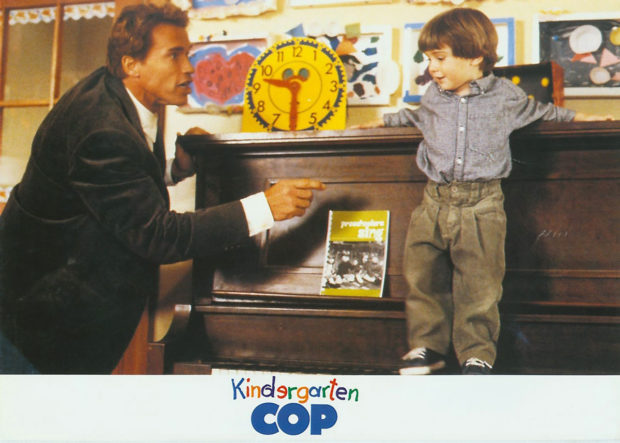 Although it is characterized by a certain violence and a handful of sequences which nowadays could possibly be judged as too intense for very young viewers, Kindergarten cop In the end, it establishes itself as quite frequent family entertainment. Aware of the limits of his script, Ivan Reitman and his writers do not seek to fart higher than their ass, and rather play on their strengths. Strengths that can be summed up in two points: on the one hand, we have the performance of Arnold Schwarzenegger of course, who obviously has a lot of fun playing with his image and being where we did not necessarily expect him. On the other, we have the profusion of strange little creatures facing him. Ah, I am being signaled that they are called "children".
Children, therefore, are in reality the soul ofKindergarten cop ; its "substantial marrow" as my butcher would say. We can only salute the work done by Ivan Reitman and his team, who have succeeded in turning a dozen kindergarten students into real characters, actually existing on the screen, each with its own particularities. If they are often characterized by a simple sentence or a gimmick, they do not really need to be more developed, and their naturalness brings real vitality to the film.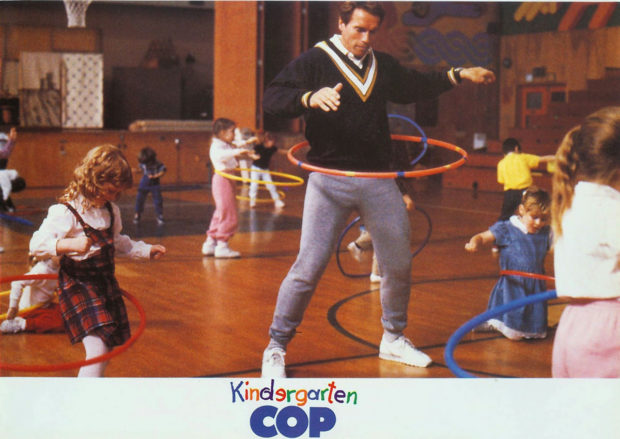 In short, in two words, whether we consider it as the quintessence of "guilty pleasure" or as a simple nostalgic reminiscence of the 90s, Kindergarten cop still performs as well thirty years after its release, as light entertainment, with humor and romance, all balanced enough onscreen to never get boring. A good moment !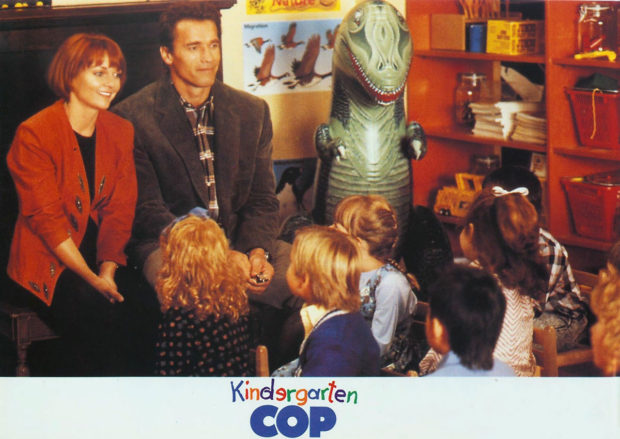 Blu-ray
[4/5]
It is under the colors of ESC Editions what just landed Kindergarten cop in Blu-ray format, and on the master side, the copy of Ivan Reitman's film is beautiful, with a cinema grain respected with small onions, and finely worked contrasts. The master is stable and clean without the slightest scratches or other unsightly scratches; sharpness and depth of field also respond to the call, in short, it's a very good job. On the sound side, the publisher suggests that we review the film in VF or VO, the two tracks being mixed in DTS-HD Master Audio 2.0, without breath or noise. The dialogues are perfectly clear, the acoustic rendering is homogeneous, and Randy Edelman's excellent score always perfectly placed. No bonus.