How has the market, in the macroeconomic sense, evolved in recent months?
From a macroeconomic perspective, this pandemic was essentially an accelerator of a transformation that was already in the making. In the context of cinema, several have arrived at the same time, since both the rise of platforms has a direct impact on the entire value chain and on all distribution models, so this really concerns the industry and there also there was an acceleration. The shutdown of cinemas has been a great opportunity for the platforms and they have seized it, to develop enormously and this is a trend that has endured. Some producers who were really hesitant to work with the platforms had to go. It may be a trap, but ultimately, for now, they have been able to find their account. The fear is to go imbalance. The room remains essential for the full appreciation of a lot of films but also in terms of positioning and promotion of films. The risk would be that the room would lose that place. At the moment, I don't think so. The reopening showed a really strong appetite. I remain fairly confident about the role of the cinema and the desire that people and young people have and will have to find films in the cinema.
Has the pace of production been disturbed by the context of recent months?
The shootings slowed down, but not that much and therefore we have a situation of films which are in advanced planning and which have difficulty finding the end of their funding, because especially on the international market today, it is very difficult to find funding. And we have finished films that remain on the distributor shelf. Most distributors have between twelve to eighteen months of stock to sell, which means that these are films that are going to be released a bit quickly – we see it in France, the films are released for two, three weeks and then they disappear. – which will therefore be cut off from part of their room income. However, the room revenues are still very important. Per spectator, it is the entrance hall that generates the most returns for the producer and the film's partners. And distributors today are very selective when they buy new films. Fortunately, they continue to buy. They could very well have not done so and waited. This is not the case. They bought films in selection, films on the market that were not in selection … They even bought big projects and sometimes a very large amount. So this dynamic is not broken, it is more selective.
How has the Marché du Film adapted to the situation where an edition is held in July instead of May? What impacts does this have on the organization?
In terms of organization this year, we have put in place certain measures which will have no reason to be renewed but which were linked to the fact that Cannes is very late this year, in particular very far from the previous meeting. you who were Berlin, (The Berlinale, usually in February, which was held in March this year Editor's note) and during the summer holidays which, for a number of countries, was really problematic. And so we decided, three weeks before the Cannes Film Festival, to do Pre-Cannes Scremings, i.e. 5 days of online screening, only for buyers, in order to allow those who already wanted to present their titles. It worked very well, many deals were concluded at that time, including on large, rather Anglo-Saxon projects. On the finished films, there was a good activity, perhaps a little more centered on commercial films, on genre films. And here, during the Market, the deals continued to be made, much centered on the films of the selections and then also on other films around.
Can you draw a first assessment of this edition?
We do not yet have a very precise balance sheet and then the international sellers – they are the ones who market the films – told me that now that things have become very digital, decision times have become much longer and decision-makers tend to ask their crews to see the movie online even if they're not at Cannes, so that makes the timelines a bit longer. We do not yet have a very good vision, but we think that overall we will be at a business volume fairly close to that of last year, or even a little higher. We will not immediately find the levels of 2019, both in volume and in price. There are some countries where prices tend to be lower than before, but all of this is easily explained if you think about a supply and demand model.
We were already discussing together in 2019 the diversity of funding sources. Is this a trend that is being confirmed, all the more so with the effects of the crisis?
The questioning today which worries professionals quite a bit – it is a questioning more about the future, the near future perhaps – it is undoubtedly a decrease or even a scarcity of public funding. In countries which were very supported, this fear is real. Obviously also for economic reasons, because the public treasuries are very affected by the crisis. It is likely that the cultural sector and the cinema in particular, will not be spared by the budgetary restrictions that we are going to experience. In some countries, production budgets have already shrunk a bit because there was pressure. Today production budgets have reached their minimum. It will be difficult to go much lower. The market is not in a position to replace a possible decrease in public funding. The question that will arise at some point is should we prioritize diversity or should we focus on fewer films but leaving them sufficient funding to complete their projects? It will be a real question in countries where funding is strong enough, that is to say all countries except the United States and China.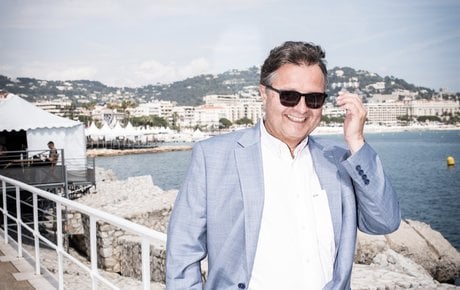 Jérôme Paillard, Deputy Director of the Marché du Film
The presence of platforms – including Netflix – has been debated here are some editions of that. From now on, platforms have become commonplace …
Yes, it has become commonplace. Maybe the last debate is about the chronology. More and more countries have reduced the windows, which for some films makes complete sense. Some films have a very short life in theaters, I find it a shame to deprive them of a momentum of communication which means that, in a few months, people can see it. I am fully aware, and particularly in France, that behind this, this poses problems which also impact funding. But from a strictly audience point of view, I really believe in the virtues of synchronous or relatively time-limited release on all media, because this is what allows the film to exist in the media, that the effort made when the film is released in theaters also has repercussions on the possibility of seeing it on other media. This is a big debate, which is not closed, which has successive evolutions and which it will be important to watch that it does not have a harmful effect, but on the contrary, that it can encourage the spectators to go see the films in theaters, if the film is screened near them.
You also support producers. Have any particular expectations emerged?
There is a lot of curiosity. We started online conferences last year. We continued them this year, in a hybrid way, with the possibility of having people in the room and speakers, who were not necessarily here. We have invested heavily, we have multi-camera recording means, which give an immersive impression and for people who are not present, to really participate in the event. It is true that in these conferences we touched on a lot of subjects, a little peripheral, we tried to give the possibility to the producers to open up to subjects that they would perhaps never necessarily have imagined that it is on subjects of technology, production. I'm thinking in particular of subjects like the digital stage where we have both virtual characters, the possibility of reproducing a historical face for example, on a real actor, or virtual sets. It is a technology that is starting to be affordable. This is not necessarily new, but these are special effects that were totally unaffordable for independent cinema. There are now technologies that make it affordable for independent cinema. These are new avenues that allow us to envision films that we could not imagine before or that were very difficult to make.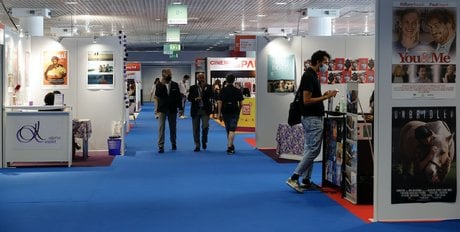 Coming back to the platforms, they have also been the subject of a cycle of specific conferences …
The platforms are not just Netflix, Amazon … There are many thematic or regional platforms, which can be a sometimes very interesting alternative, because the editorial work they do and the promotion of films is very different from what, say, Netflix does, where there's no highlighting other than that it's already doing a lot at the box office. We have somewhat strengthened the role of inspiration for the Marché du Film.
What is the most innovative cinema or country?
We see innovative films, but not one country is more innovative than another. It all depends on the director and sometimes a director will be very good on one film and less good on another. There are, however, countries that are very much expected to wake up. Africa in particular. Is Africa going to be innovative, I don't know. I think Africa has things to say. Perhaps the documentary is innovative, in its ways of dealing with the subjects.
If we do a little foresight, what is your vision for the future?
The future is going to be a lot of that. The Market is above all a marketplace, it is where professionals come to sell their films, but it is something that is done more and more in a dematerialized way. The physical encounter remains important because it is easier to share your convictions on a film, face to face. Business pressure is much easier to generate face to face. Creating emulation between buyers, raising the stakes, it's a bit complicated to do online. But what is important in the meeting in Cannes is this inspiring, almost educational role, it is a segment that we will develop in the future and undoubtedly in a hybrid way because we know, probably, that for economic, environmental, health reasons, not everyone will travel as much as before. And at the same time, it's professionals who participate in the ecosystem, so this hybrid part will certainly continue to exist. Maybe also for the projections. After that, it is important to keep a certain primacy in Cannes, in physics. We are going to reflect with the professionals on the best way to do it.